Mystery #1:The Berzerker's Identity
There have been rumors going around about The Berzerker's real identity. Here are various things I have found on the subject.
1.While searching on yahoo I found a webpage that had a picture of a guy named Luke on it. Above the picture it said something like "Here's Luke of The Bezerker,looking much happier now". Notice the way The Berzerker was misspelled,missing the R. Could it be a simple spelling error, or a completey different band that just has a simaliar name?
2.While searching on google I found this.
"eh...The Berzerker from Melbourne Australia is in Vancouver for a few weeks & is looking for some west coast bookings (as "The Berzerker" or one of his other aliases)...you can reach him @604.540.8754 (Luke)"
Notice how the name Luke appears at the end of the contact number. Interesting....very interesting.
Is The Berzerker's name Luke? Who knows.
I have know idea if The Berzerker's name is Luke,that's why this is called the Mysteries section.
Mystery #2: The Berzerker Industires
(Solved)
Don't know if you seen it before, but at the top of The Berzerker's website it says copyright The Berzerker Industries. In the booklet to the cd it says Dragon Imagery copyright The Berzerker Industries. I always wondered what that was, so I emailed The Berzerker about it. Here's what he said "MY COMPANY THAT DEALS WITH STUFF LIKE THE FILMS CLIPS AND THE IRON DRAGON DESIGN" Well there you have it.
Mystery #3: Everdark
I was looking under The Berzerker on
www.cdnow.com
. At the bottom of the page it said other credits. So I clicked on it. It came up to this page with a band called Everdark on it. By every one of the songs it said Berzerker.
So, did he do the production for the cd or something?
Mystery #4: What's That in His Mouth?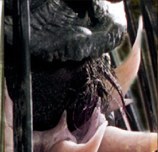 Notice anything weird? What the hell is that stuff in his mouth??
Mystery #5: What is he saying?
I don't know if you haven noticed, but at the begining of February, there is some very quiet whispering. Does anyone have a clue to what he is saying?